Check Out - How to Works BKF Recovery Tool?
Once you've launched the latest version of the BKF repair tool for corrupt windows backup recovery, you'll observe we have a completely freshened up the look and feel. So how do you get to the updated and good stuff? Do not worry, we've readied a simple step by step guide to help you find your way to the newest features.
Step 1: After installing the BKF Recovery tool properly on your computer system, you can begin bkf file recovery process by first launching the software:
Windows Start Menu >> All Programs >> BKF Recovery Tool
The beginning screen will appear as shown below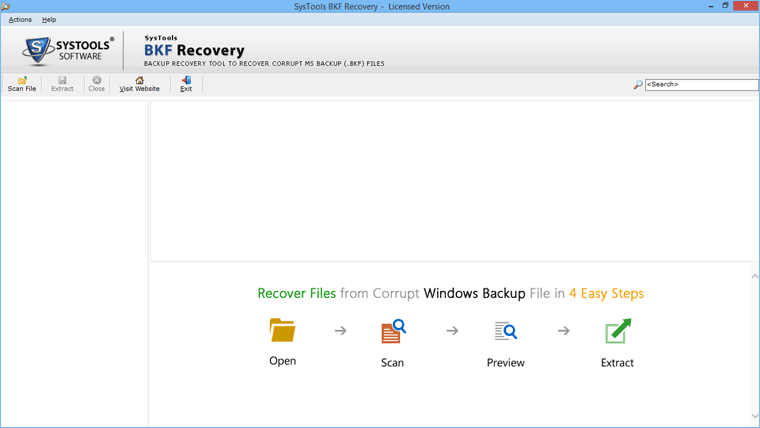 Step:2 Click on Scan BKF button and the following screen will appear. Three scanning modes are available:
Quick Scan: Quick Scan is meant for quick recovery of BKF items and is recommended for low corruption cases.
Deep Scan: Deep Scan is meant for complete recovery of BKF items and is recommended for extreme corruption cases.
Range Based Scan: It is meant to perform selective scanning of a large BKF file. You can provide the range of BKF file you wish to recover and save your time.
Select a value from default value
What is this value? This value is the way for getting only selected part from the large sized Windows backup database. Like, if you enter the value is 50, it will recover 50% of data from the selected backup file.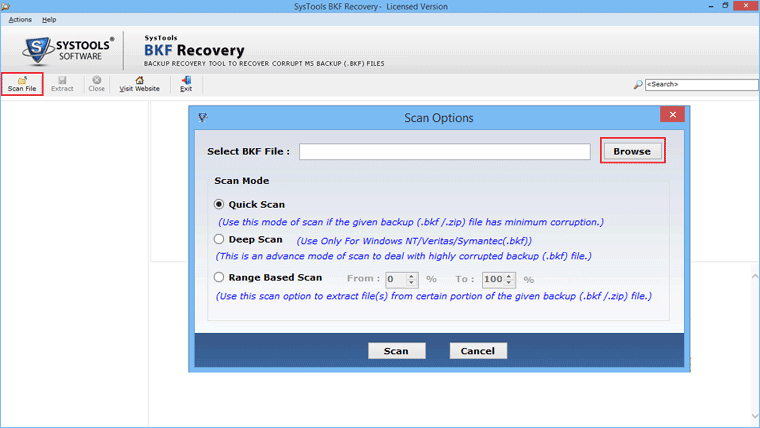 Step 3: You have to choose one scanning option as per your requirement and proceed for recovery process. Once you will select the scanning option, the software will ask you to choose corrupted or damaged BKF file. You can easily choose damaged BKF file items by selecting and clicking the browse button.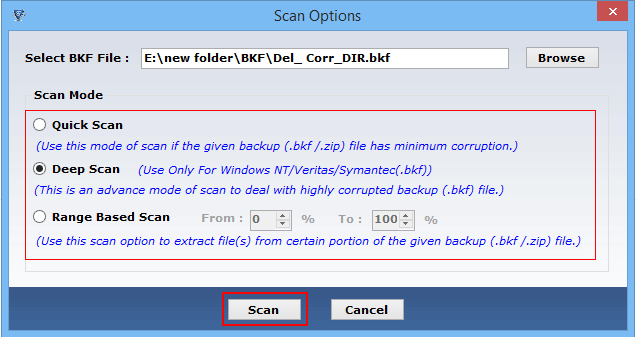 Step 4: Next, click on scan button to proceed. The scanning process will show you the progress details with status.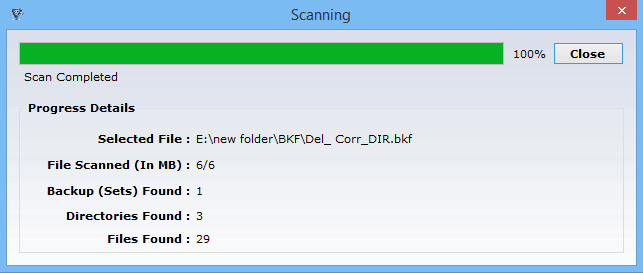 Step 5: Once the scanning finishes following screen will appear and you can expand the recovered BKFfiles in tree like structure as shown below. You can view or extract the complete backup file after recovery, click extract button as shown in below screen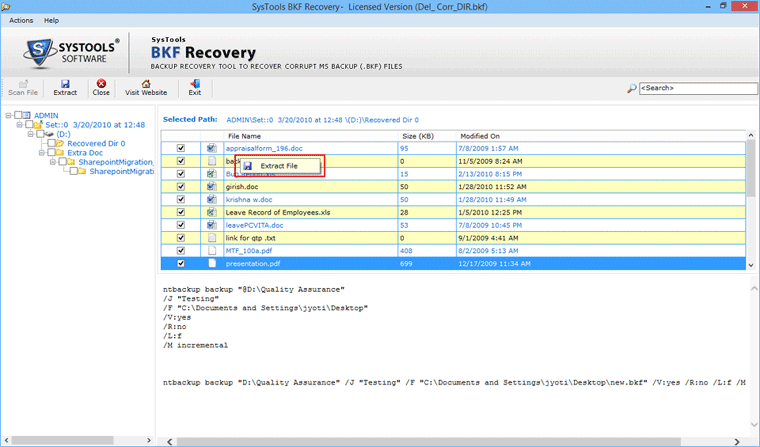 Step 6: The extraction of BKF file is possible in two modes. You need to select the destination location to save the file, choose the mode of extraction and click Extract button.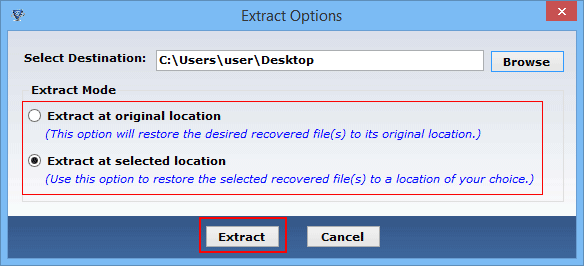 Step 7: After extraction, the following message will appear with path of saved BKF file. Click OK to finish.

After completing the extraction process, you can exit this BKF Recovery tool by closing the software Window.